District Heating and
Cooling Systems
Since 1970, Shinryo has been advancing its district heating and cooling (DHC) technologies to become the leading DHC Contractor in Japan. These efforts reflect our environmentally friendly corporate policy and contribute to society, urban life and all mankind.
Our DHC plants are designed with the following objectives;
Energy efficient
Environmentally friendly
Stable and reliable energy supply
Our projects are operational at over 80 sites in Japan, and since 1996, our first Asian DHC project" the KLIA CGS/DCS plant" has been supplying chilled water to various Kuala Lumpur International Airport facilities. Today, our DHC operations extend to plants in Singapore, Thailand and the United Arab Emirates.
Asia is increasingly turning to large scale heating and cooling systems for multiple buildings in order to achieve the objectives of reducing air pollution, saving energy, countering global warming, as well as making efficient use of new energy resources. Drawing upon the experience and technologies developed over the years, Shinryo has been involved in a number of district heating and cooling projects. All of these projects have been designed to provide a stable and cost-effective energy supply whilst respecting the environment in the process.
Project Record for District Heating and Cooling System in Japan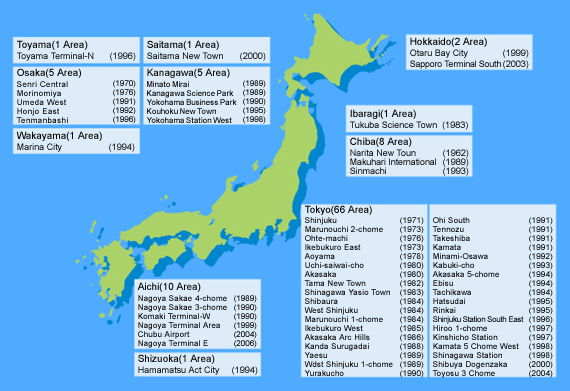 Aomi South DHC Area in Tokyo

Nagoya DHC Area in Aichi

Thermal Storage at Minatomirai 21 DHC Plant In Yokohama

Minatomirai 21 DHC Plant in Yokohama

Ebisu DHC Area in Tokyo

Shinjuku DHC Area in Tokyo

Tachikawa DHC Area in Tokyo

Shinagawa DHC Area in Tokyo
International District Cooling Project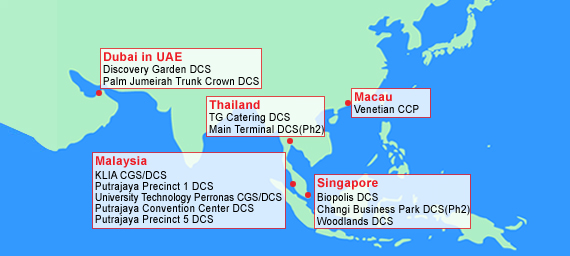 Project Details - DHC System
Shinjuku DHC Plant (Japan)

Since 1971, chilled water and steam had been supplied to Shinjuku West New Town area until 1991 when DHC Plant was fully shifted to present location. Total chilled water capacity is 59,000 RT, steam production is 248 ton/h and power generation is 8500 KW

Owner : Energy Advance Co., Ltd
Date of Completion : Jul 1995

Minato Mirai 21 DHC Plant (Japan)

Plant was designed for new development of Yokohama Port Side Town development known as MM21.Plant was designed to link to 3 other plants. 2nd Plant started operaion in 1997. A 30,000 RTH ice storage system was incorporated into 1st plant.(PCM : ice ball)

Owner : Minato Mirai 21 DHC Co., Ltd
Date of Completion : Apr 1989

Kuala Lumpur International Airport CGS/DCS Plant (Malaysia)

Since 1997, chilled water and electricity have been supplied to airport facilities from the Chiller Plant. Shinryo constracted with 35,000 RT designed chilled water capacity. Current installed capacity consists of 12 nos.2500 RT double effect steam absorption chillers.

Owner : Gas District Cooling (M) Sdn Bhd
Date of Completion : Mar 1997

Putrajaya Precinct 1 DCS Plant (Malaysia)

Putrajaya area was developed for the transfer of the capital city Kuala Lumpur in Malaysia. Plant started to supply chilled water to the government office complex in 1999. Plant capacity was 27,500 RT which included 2 nos. of 1250 RT ECC, integrated chilled water storage system, 5nos. of 2500 RT SAC and 5 nos. of 1500 RT DFC.

Owner : Gas District Cooling (M) Sdn Bhd
Date of Completion : Dec 2000

Biopolis DCS Plant (Singapore)

Biopolis is envisioned to be a world-class biomedical sciences research and development (R&D) hub in Asia. Biopolis DCS plant has been in commercial operation since July 2003. We Shinryo completed Chiller Plant which is designed with 10,000 RT chilled water capacity. ECCs are each 2000 RT complete with integrated chilled water storage system.

Owner : First DCS Pte Ltd
Date of Completion : Jul 2003

Woodlands DCS Plant (Singapore)

Woodlands Wafer Fab Park is located in the northern region of Singapore. The park is in the vicinity of the Woodlands Regional Centre and well-linked to the city and airport. Plant has started to supply chilled water to Wafer Fab Plant in 2006.Plant capacity is 4,000 RT which includes 2 nos. of 2000 RT ECC with integrated chilled water storage system.

Owner : First DCS Pte Ltd
Date of Completion : Oct 2006