- Technology to Build Large-scale Plants -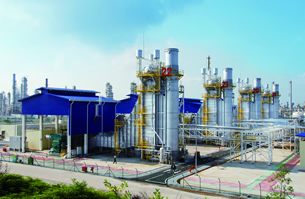 Petronas Penapisan (Melaka) Sdn Bhd
Cogeneration Plant (Malaysia)
We have been engaging in advanced plant construction that demands high safety, quality and performance since long ago from cogeneration, waste processing and aerospace facilities. Utilizing this technology, we work on many Engineering, Procurement, and Construction (EPC) projects that unify planning, design, procurement, construction, and trial operation as a main contractor in plant construction.
Cogeneration Systems that Produce and Supply Heat and Electricity Simultaneously
Cogeneration systems are systems that extract and use two types of effective energy such as electricity and heat from a single energy source.
The importance of this technology is once again gaining attention due to higher capacity and higher efficiency of the generation systems combined with the heightened environmental awareness worldwide in recent years. Shinryo Corporation has an amazing track record and technology both in Japan and overseas and proposes the optimal system tailored to the requirements of our customers for the construction of cogeneration systems that realize greater energy saving.