Construction Productivity Reforms at the Shinryo Corporation
In recent years, the need for Building Information Technology (BIM) is growing in order to respond to various challenges in the construction industry from high quality and short construction cycle as well as fewer veteran engineers to revisions of building standard laws and the demand for high-level design accuracy.
Shinryo Corporation engaged in research of three-dimensional CAD 30 years ago and it has introduced DesignDraft*1, which is a three-dimensional construction CAD system. This system improves productivity and responds to the diverse needs of customers by fully handling information related to construction digitally.
*1: DesignDraft is a product from Syspro Inc.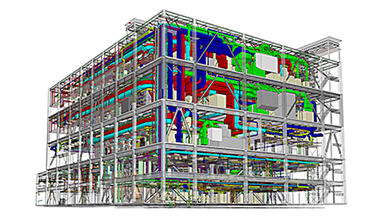 Our use of BIM in the construction of the UNIGEN Gifu Plant was covered on the Ieiri IT Strategies on KEN-Plantz website by Nikkei Business Publications Inc.
Overview of BIM
Visualize the Final Form
We are able to share information with everyone, including the client and construction contractors, by converting the entire design into 3D models. This makes process management simple while effectively reducing the amount of rework after construction is complete.
Electronic Procurement Design
We are aiming for automation in the future from order to production by calculating the estimated costs from the 3D models of designs.
Information Management
We are able to create necessary materials from two-dimensional construction and working drawings easily from the three-dimensional models. In the future, we are aiming for centralized management of construction information throughout the construction life cycle from maintenance management to renovation plans.

BIM (with audio pronunciation)
Customer Voice
KYOSAITECHNOS CO., LTD.
Kyosai Technos built a new office in Tama City in December 2007. The construction was undertaken by creating plans to examine in advance before construction began with DesignDraft (SYSPRO CORPORATION) three-dimensional Cad system to produce a layout that included production devices. As President and CEO Tsutomu Usui says in his interview, he was happy construction was completed as intended because the requests of the client can be more than fulfilled with the three-dimensional CAD system. This project demonstrates the effectiveness of the three-dimensional CAD system.
| | |
| --- | --- |
| Client | KYOSAITECHNOS CO., LTD |
| Address | Tama City, Tokyo |
| Business field | Design, evaluation, manufacture, repair, and modification of measurement devices, pharmaceutical devices, etc. |
| Capital | ¥40 million |
| Established | 2002 |