January 11, 2017

Financial summary (consolidated) for the fiscal year ended September, 2016

January 11, 2017 - SHINRYO CORPORATION announced the Group's consolidated results for the 61st term (October, 2015 - September, 2016) as below.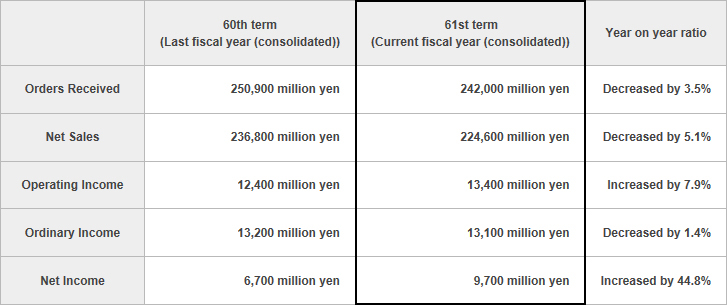 <Overlook of the current fiscal year (consolidated)>
Japanese economy during the 61st term still remained on a modest recover path as a whole; consumer spending showed a sign of a pickup and measures by the Japanese government underpinned the economy, but corporate earnings came to a temporary standstill, due to ongoing appreciation of yen and an economic downturn in the emerging countries including China.
In the construction industry, orders for construction works remained stable in both public and private sectors, thanks to strong construction demand aiming at the Tokyo Olympics and support by the government's economic measures. In addition, prices of materials and cost of labor seemed to be stabilized, although the level was still high.
Under such circumstances, consolidated results of the Group indicate that the amount of orders received decreased to 242,000 million yen (decreased by 3.5% on a year-on-year basis) and net sales decreased to 224,600 million yen (decreased by 5.1% on a year-on-year basis). In terms of profit and loss, operating income increased to 13,400 million yen (increased by 7.9% on a year-on-year basis), thanks to improved profitability in the domestic construction business, while ordinary income decreased to 13,100 million yen (decreased by 1.4% on a year-on-year basis) and net income increased to 9,700 million yen (increased by 44.8% on a year-on-year basis)
<Future prospects>
It is expected that Japanese economy will continue modest recovery supported by a continued modest pickup of consumer spending and the government's economic measures such as investment in public sector, but the growth will not have powerful momentum, due to uncertainty of global economy such as policy changes of the new administration in the U.S., issues around British exit from the European Union, and geopolitical risk in Asia, as well as growing signs of a slowdown of overseas economy.
In the construction industry, we will continue to face many challenges such as manpower shortage affected by an avoidance of the industry by young people, consistently high prices of materials, and an expected fall in demand after the Tokyo Olympics. In order to overcome these challenges, it will be more important for us to continue to inject management resources from medium- and long-term perspectives.
In order to respond to such circumstances, we will not only enhance our global competitiveness by redeveloping our overseas business operations, but also construct the earnings structure that is not affected by the trend in the domestic construction market; in order to attain those goals, we will need to enhance our productivity dramatically, improve our cost competitiveness, and increase profit by implementing proper measures for the domestic stock market, strengthening overall abilities of the Group, and reviewing our work system.
In addition, we will enhance our way of working by innovation and changes in work style ahead of competitors in the industry, and provide attractive work environment to employees, in order to boost our productivity further.
Click here for detailed financial-results.